The Giacobbe Group begins it's 5th year with eXp Realty and we were just honored with our 4th ICON Agent Production award by our company eXp Realty! Find out more about this prestigous award and what it takes to receive it!
So what does it take to become an ICON agent at eXp Realty? The Icon award is an annual production and stock award that is achieved when an agent or sales team pays off our company cap (Annual Broker's Dues) and then sells an additional 20 units beyond that. Production cap can usually be reached once an agent selling 2.2 Million in volume. this typically requires 40-50 completed transactions to reach ICON Agent status! That's 3+ homes a month on average!
What do you get when you hit ICON status? Producing agents who reach ICON status earn their company cap back in the form of eXpi our publicly traded stock. Stock awards have a vesting period of 3 years.
What do you attribute your success to? Finding great mentors and learning from some of the top sales and marketers I could find throughout the years. Education and mentorship is key whenever you have big goals. Finding people who are already where you want to be and learning from them. Also, becoming a mentor and helping others reach their goals too. I always want to find ways to find ways to add value to others, that's the definition of leadership.
What is one "Golden Nugget" you'd like to give? Darren Hardy one of my many mentors told a story one time that has always stuck with me throughout the years. The pendulum of success swings both ways. On the other side of every failure, you will always find your next big achievement. If you are going through any kind of difficulty it's important to remember that if you just keep going your next achievement is likely just around the corner. I am always surprised by what happens when I keep going despite set backs, it always leads to something great.
Thank you for taking the time to read this, if you or anyone you know is in the market to buy or sell a home either now or in the near future. Please remember, we love referrals!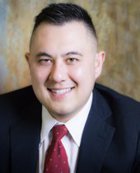 John Giacobbe, Realtor
210-857-6942
John@thegiacobbegroup.com