All good things must come to an end.. Starting on December 16th, 2022 - CPS Energy is pulling the plug on it's residential solar rebate program! Since 2009, CPS Energy has been mailing San Antonio homeowners large cashier's checks shortly after a system is installed. The amount of the rebate is $2500 after installing a solar PV System plus an additional $500 if the equipment is locally sourced. In San Antonio, we have one main company that manufactures solar panels, the mission solar company.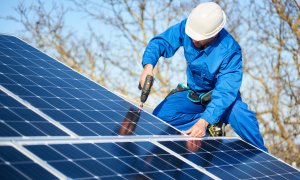 According to CPS Energy's FAQ on their website, they are ending the program because the solar rebate program has been supporting the adoption of solar in our community since 2009. As the cost of solar has declined over the 3 years, the rebate has become a smaller part (less than 10%) of the cost of installing a system. This signals to us that the solar rebate has served its purpose, and with the launch of our new energy efficiency and conservation program, we will re-direct the dollars to other, newer customer programs.
Moving forward, CPS Energy will continue to offer incentives but only to local small businesses to make room for other programs.
As a GREEN Designated Realtor, I have helped several clients including myself save money every month by going solar. The main reason why homeowners should seriously consider getting a system installed is the immediate cost savings, low rates, and NO money required out of pocket.
Paying your light bill is something that every single home owner needs to do every single month. Instead of renting your electricity from the power company, why not invest in a system that you own, lock in your cost, and receive a hefty tax savings. In 2022 the Federal Tax credit was increased again to 30%, this tax credit is given to you kind of like a "gift card" from the IRS, and for a couple more months you WILL also receive a $2500-$3,000 cashier's check from CPS Energy, all with ZERO money out of pocket. The fastest way to start the process of getting your solar energy installed is visiting us on our link at Powur Solar at www.FreeSolarPanelEstimate.com - Simply fill in your address and attach a copy of your most recent light bill.
We look forward to answering your questions and helping as many San Antonio home owners save money and take advantage of this CPS Energy rebate before it's gone for good!