8 Things To consider before becoming a San Antonio Real Estate Agent
Throughout my 4 year real estate career here in San Antonio i've had tons of people approach me with the desire of becoming a Real Estate Agent. They are attracted to the idea of being able to set their own schedule and work in the exciting job of selling homes. Being a Realtor in San Antonio can be very rewarding, but there are a lot of things that I would urge the newbie Realtor to consider first before making the plunge into the world of selling homes. Here are a few things to consider before getting started.
1. Getting licensed- First things first if you want to sell real estate you're going to need to get licensed with TREC (Texas Real Estate Commission)! There are two real estate schools in San Antonio. SABOR and Champions School of Real Estate. I always recommend Champions because their classes are twice as fast. The requirement is to pass all 6 classes required by TREC and passing a state and national exam.
2. Start up expenses- Be prepared to invest in your business up front! I would recommend setting aside $2-3k at a minimum to get started. You will need to pay an array of start up fees including: Tuition at real estate school, application fees, fees to join the board of Realtors, money for head shots, business cards, etc etc etc.. You need to be ready to make a substantial investment in yourself to give yourself all of the tools you need to be successful.
3. Selecting a broker- There are a number of brokers in San Antonio to pick from but a couple things that are important when selecting a broker are knowing what are the total fees you can expect to pay with the broker, how convenient is the broker's office to where you are located, will you be working from home or in the office. The internet has helped to level the playing field for all brokerages small and large- It comes down to building a personal brand for yourself.
4. Building your online brand- The new way of doing business is online. You need to establish yourself relentlessly within your sphere as the one and only go to person for their Real Estate needs. San Antonio Real Estate can be incredibly competitive with thousands of competing agents in the market it will take work to establish yourself as the go to expert. Reviews and referrals are the way to go so focus on these from the beginning!
5. Learning how to use MLS- The San Antonio MLS where agents go to search for real estate can be a very powerful tool, but also very complicated for new users. Take lots of time focusing on learning all of the countless features this software has to offer. You will need to learn how to set up automatic drip campaigns, write custom email content, and most importantly how to locate the perfect home for your first client!
6. Making the right connections- Every Realtor needs a team of help to get some of the deals done. The most important person you'll need first is a good Lender. A good lender can mean the difference between closing a deal and letting it flop and letting your clients down. Also every realtor needs a Title company, a contractor, a surveyor, a maid, a photographer, a tax accountant, an attorney, a stager, a graphical designer, and the list goes on. Align yourself with the best in the business and you will produce excellent quality work.
7. Marketing for success- I get at least 3-4 calls a week from different companies trying to sell me the latest and greatest marketing for my business. It's really important to think very carefully about the marketing dollars that you are spending because it is easy to spend all of your earnings/commission on ineffective marketing. Make sure you track the expenses that are going out and focus your marketing dollars on what works!
8. Become a Jack of all Trades- As a Realtor I often feel like I play many roles- we have to know a little bit about everything, knowing the neighborhoods, about construction, about contracts and negotiations. As a successful real estate agent you need to have an open mind and learn as you go. Never let the fear of getting started stop you from making actions in the right direction!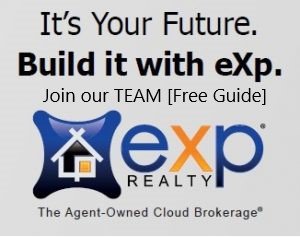 John Giacobbe is San Antonio's Top Realtor with EXP Realty- He's personally helped hundreds of families throughout San Antonio buy, sell, and invest in residential Real Estate. His passion is in helping San Antonio families achieve the dream of becoming a home owner! If you have any questions about getting licensed or need advice to get started contact us today!