Dear Family, friends, & Clients,
I am writing you today to share with you a letter from my heart. To inspire you to be the greatest version of yourself and to remind you to NEVER let anyone hold you down from achieving the goals you have set for yourself and the vision you have for your own life.
Six years ago (Pre-Realtor John) I was working as a personal trainer at a large gym here in town. I enjoyed my job immensely because in my heart I felt that I was making a difference in the lives of my client by helping them achieve their goals of being stronger and healthier versions of themselves. I was a beacon for change and helped motivate my clients to make a change.
After 4 years working at the gym I knew that I had more to offer and I wanted to further my influence help more clients and our team. I knew that If I could work my way up the 'Corporate Ladder' into an assistant manager or team lead role I would make a bigger impact. The moment an opportunity came up for a position I was the first in line to apply. If I could just get a chance I would prove my worth. So, I applied for the position- After going through the process and the paperwork and the interviews I felt confident that I was the right guy for the job. WRONG- I was turned down for that opportunity. A bit disappointed I kept my hopes up and would try again the next time a position came up. I would remain hopeful.
When the next advancement opportunity finally came available I went through the hiring process again and unfortunately, I was denied for the promotion a second time. Now a little more frustrated and a little more discouraged I continued with my job training clients until another opportunity came up. Finally, when an opening came up I tried again, third times a charm Right?! WRONG- I was denied for the promotion a third time! I was done!
After being denied over and over for advancement I decided to switch gears and redirect my focus towards a business in Real Estate. I knew that in the Real Estate business I would have nobody to prevent my growth, and that I could work as hard as I needed to, and ultimately make a bigger impact by helping more families reach their goals in a different way.
Looking back on the experience I realize today that the denial for growth I had in my professional career as a trainer worked out at a blessing in disguise and I am happy to look back and reminisce on that experience. Even to think that many of the same people who denied me an advancement opportunity are still in the same place today as they were back then. Today- because I refused to give up my business and influence continues to grow! I am happy to announce another record year in sales again. I am blessed to have an opportunity to have helped over 50 families buy and sell homes this year alone.
With this story, I urge you to never give up on your dreams and passions. Never let anyone discourage you or put a glass ceiling on your potential and never stop dreaming about doing and being more! If you believe in yourself I believe in you too!
Your Friend in Real Estate,
John Giacobbe, Realtor


P.S.- If you have any family, friends, or coworkers who are in the market to buy or sell a home please refer them my way! I am here to listen, advise, and help you be successful.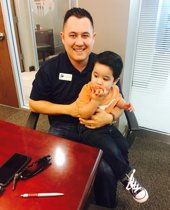 September 2017- At the closing table with my son J.T. My favorite closing for 2017!
- Back In my personal training days (6 years ago)- Competing in the Ironman Triathlon